Posts for tag: root canal treatment
By William L. Metz, D.D.S.
July 24, 2019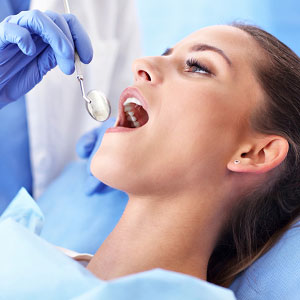 Root canal therapy is the unsung "hero" of dentistry. Although often falsely maligned as an unpleasant experience, millions of decayed teeth have been saved thanks to this routine treatment.
But although root canal therapy can save your tooth, we can't guarantee it won't be affected by another infection. There are other factors to consider how long a treated tooth will remain healthy.
Root canal therapy stops and limits the damage from tooth decay that has infected the inner pulp and root canals. A dentist or endodontist (a root canal specialist) drills into the tooth to gain access to the pulp. They remove the diseased pulp tissue and then fill the empty pulp chamber and root canals with a specialized filling called gutta percha. The tooth is then sealed and later crowned to protect it against future fracture or infection.
The probability of that occurring may depend on when a dentist performs the root canal in the disease progression—and the earlier the better. If decay has already infected the underlying bone, the tooth's long-term prognosis even with root canal therapy could be dim. That's why you should see a dentist as soon as possible for any tooth pain, even if it goes away.
The type of tooth could impact long-term health. Teeth with single roots are usually easier to treat. But those with multiple roots and an intricate root canal network can be more difficult to treat, and require specialized equipment and techniques.
Age can also impact root canal therapy longevity. The older a root canal-treated tooth is, the more brittle and susceptible to fracture it can become, which can pose complications. That's why we typically place crowns on treated teeth to protect them from both future infection and undue stress created while biting and chewing.
To help mitigate these possible factors, you should see your dentist regularly for checkups and at the first sign of pain or other abnormalities for the earliest treatment possible. And for more complex tooth issues, your dentist may refer you to an endodontist to perform your root canal. With early intervention and attentive care, your root canaled tooth could enjoy many years of life.
If you would like more information on root canal treatment, please contact us or schedule an appointment for a consultation. You can also learn more about this topic by reading the Dear Doctor magazine article "Root Canal Treatment: How Long Will It Last?"
By William L. Metz, D.D.S.
November 06, 2018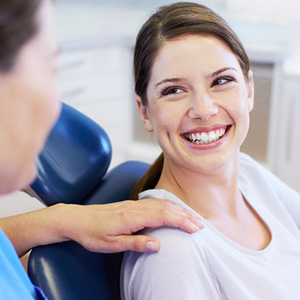 With smart phone in hand, you can instantaneously find out just about anything. Unfortunately, online search results aren't always accurate. Case in point: there's an idea floating on the World Wide Web that root canal treatments cause cancer.
Sounds ludicrous? Yes, but like other strange ideas this one has historical roots (pardon the pun). In the early 20th Century, a dentist named Weston Price propagated the idea that leaving a "dead" organ in the body caused health problems. By his view, a root canal-treated tooth fell into this category and could potentially cause, among other things, cancer.
But concern over root canal treatment safety is on shaky ground: dentistry examined Dr. Price's ideas over sixty years ago and found them wanting. But first, let's look at what a root canal treatment can actually do for your health.
Tooth decay is an infection that first attacks the outer tooth enamel and then continues to advance until it infects the inner pulp. It can then travel through the root canals to the roots and bone. Without intervention, the infection will result in tooth loss.
We use a root canal treatment to save the tooth from this fate. During the procedure we remove and disinfect all of the diseased or dead tissue within the pulp and root canals. We then fill the empty chamber and canals with a special filling and seal the tooth to prevent any further infection. And while technically the procedure renders a tooth unable to respond to thermal sensitivity or tooth decay, the tooth is still alive as it is attached to the periodontal ligament and its blood supply and nerve tissue. The tooth can still "feel" if you bite on something too hard and it doesn't affect the tooth's function or health, or a patient's overall health for that matter.
As to Dr. Price's theory, extensive studies beginning in the 1950s have examined the potential health risk of root canal treatments. The latest, a 2013 patient survey study published in a journal of the American Medical Association, not only found no evidence linking root canal treatment to cancer, but a lower risk of oral cancer in 45% of patients who had undergone multiple root canal treatments.
While root canal treatments do have potential side effects, none are remotely as serious as this online "factoid" about cancer. It's far more likely to benefit your health by saving your tooth.
If you would like more information on root canal treatment, please contact us or schedule an appointment for a consultation. You can also learn more about this topic by reading the Dear Doctor magazine article "Root Canal Safety."
By William L. Metz, D.D.S.
April 28, 2017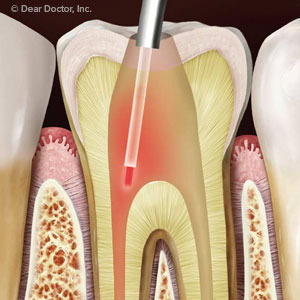 As in other parts of medicine, lasers are beginning to change the way we provide dental care. More and more dentists are using lasers to make earlier diagnoses of dental disease or provide surgical treatment. One area prime for change is the treatment of teeth with deep decay and in danger of being lost.
For decades now, the best way to save teeth in this condition is with root canal treatment. In this common procedure we access the pulp, remove the infected tissue with specialized hand instruments, and then fill and seal the pulp chamber and root canals with a special filling.
We can now potentially improve the efficiency and increase the success rate of this treatment with laser technology. With their focused light, lasers emit a concentrated burst of energy that's extremely precise. In many instances laser energy can remove the target diseased tissue without damaging nearby healthy tissue.
In this form of root canal treatment, we use lasers to remove tissue and organic debris within the pulp and then shape the root canal walls to better receive the filling. We can also utilize the heat from laser energy to soften and mold the filling, so that it better conforms within the walls of the root canals.
Using lasers in root canal treatments may require less local anesthesia than the traditional approach and also eliminates disturbing or discomforting sounds and vibrations. Dentists who've used the new technology also report less bleeding during the procedure and less pain and occurrences of infection afterwards.
But there are a couple of disadvantages for using lasers in root canal treatment. For one, light travels in a straight line — and many root canal networks are anything but straight. More complex root canal networks may still require the traditional approach. Laser energy could also increase the tooth's inner temperature, which could potentially damage tissues even on the tooth's outer surfaces.
Used in the right circumstances, though, lasers can be an effective means to treat diseased teeth. Â As laser technology continues to advance and becomes a mainstay in dental care, you may soon find it part of your next dental procedure.
If you would like more information on root canal treatments, please contact us or schedule an appointment for a consultation.