Posts for: January, 2021
By John G. Keeton, DDS, PLC
January 15, 2021

Dental patients have amazing options for tooth replacement. Dental implants, for example, can replace the entire tooth, root and crown, giving patients a new tooth nearly as good as the old one.
Nearly—but not exact. Even implants can't match the full benefits of a natural tooth, including one in less than perfect shape. Our first goal as dentists, then, is to save a diseased tooth if at all practical before considering replacing it.
That often involves a root canal treatment to address decay threatening a tooth's interior. The procedure requires drilling into the tooth to access its innermost pulp, cleaning out the pulp and root canals, and then filling the empty spaces. Since all dentists are trained in basic root canal treatment, your general dentist may be able to perform it.
But some dental situations call for more advanced endodontics, the dental specialty for treating disease and other problems inside a tooth. So, in what situations would you see an endodontist?
When your dentist refers you. Your dentist wants you to receive the level of treatment necessary to save your tooth. After examination, they may determine your situation would be better served by the advanced training, equipment and techniques (including surgery) of an endodontist.
When your tooth has complications. Patients often need an endodontist when existing factors complicate treatment of advanced tooth decay. A patient may have dental pain that's difficult to pinpoint, requiring the diagnostic resources of an endodontist. It's also common for a tooth's root canal network to be highly intricate, and which respond better to treatment with specialized endodontic tools and techniques.
When root canal treatment fails. Most root canal treatments are successful in protecting the tooth from further infection. That said, it's still possible for a root-canaled tooth to become re-infected or develop more problems. Again, an endodontist and their "tool chest" re-treating a root-canaled tooth may be the best option for saving it.
You also don't have to wait for a referral—you can see an endodontist if you believe they would be best to treat your decayed tooth. You can find one near you by visiting an online endodontist directory at www.aae.org/find. An endodontist may be the lifesaver your diseased tooth needs.
If you would like more information on saving a tooth through endodontic treatment, please contact us or schedule an appointment for a consultation.
By John G. Keeton, DDS, PLC
January 05, 2021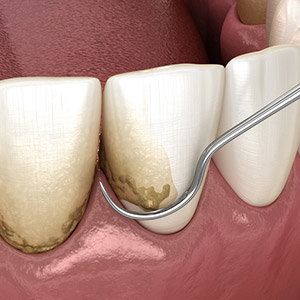 We all benefit from regular dental care, regardless of our state of oral health. But if you've experienced periodontal (gum) disease, those regular dental visits are even more important in making sure your healed gums stay that way.
Gum disease is a bacterial infection caused by dental plaque, a thin film of bacteria and food particles accumulating on tooth surfaces. The infection triggers inflammation in the gums that quickly becomes chronic. That's why people with gum disease have reddened and swollen gums that bleed easily.
The infection can aggressively spread deeper below the gum line, eventually affecting the bone. The combination of weakened gum detachment from the teeth and bone loss may ultimately cause tooth loss. But we can stop the infection by thoroughly removing all plaque and tartar (hardened plaque) from the teeth and gums. As the plaque is removed, the gums respond and begin to heal.
It's possible then even with advanced gum disease to restore health to your teeth and gums. But although the infection has been arrested, it can occur again. In fact, once you've had gum disease, your susceptibility for another infection is much greater. To stay on top of this, you may need to visit the dentist more frequently.
These upgraded visits known as periodontal maintenance (PM) are actually a continuation of your treatment. Depending on the extensiveness of your gum disease, we may need to see you more than the standard twice-a-year visits: Some periodontal patients, for example, may need a visit every two to three months. Again, the state of your gum health will determine how often.
In addition to standard dental cleanings and checkups, PM visits will also include more thorough examination of the teeth and gums, particularly the health of the tooth roots. We'll also check how well you're doing with daily plaque removal and if there are any signs of gum infection. We may also prescribe medication, rinses or topical antibiotics to help control your mouth's levels of bacteria.
A patient's periodontal "maintenance schedule" will depend on their individual condition and needs. The key, though, is to closely monitor gum health for any indications that another infection has set in. By staying alert through dedicated PM, we can stop a new infection before it harms your dental health.
If you would like more information on gum disease, please contact us or schedule an appointment for a consultation. You can also learn more about this topic by reading the Dear Doctor magazine article "Periodontal Cleanings."